Service Protectors
available (2-5 days)
approx. $35.96 (tax free)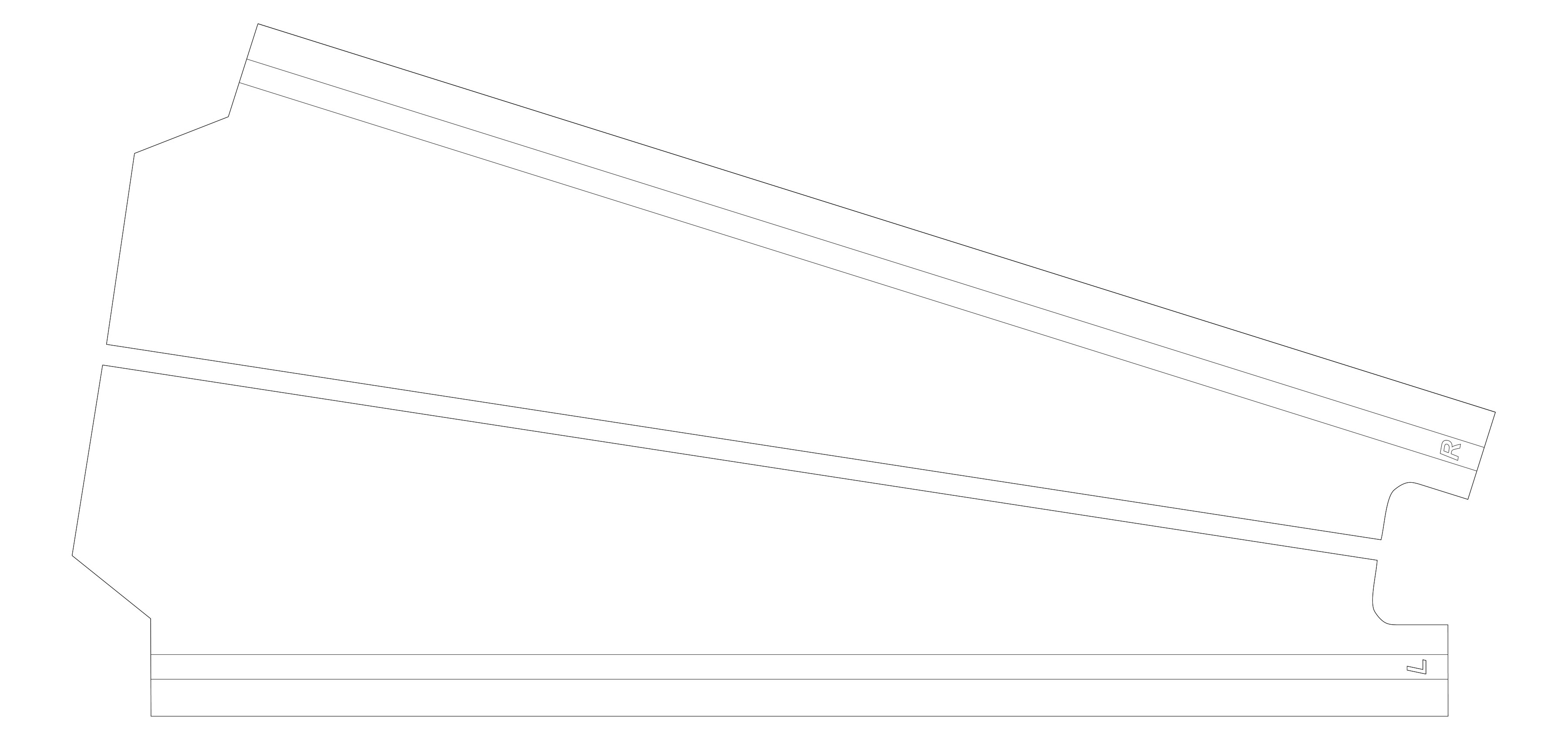 Our service protectors will help you protect your mirror blades, artblades, side rails or simply the cabinett inside from scratches or damages while sevicing your pinball machine. You can now finally lift and lower your playfieldf without the risk of damaging your precious mirror or art blades. On to top of it – your siderails are protected, too.

You can use the service protectors on nearly any pinball machine starting from Bally / Williams WPC. It works also with Stern, JJP, CGC or other comparable cabinet designs from other pinball manufacturers.
This category is our marketplace for useful stuff made of macrolon or vivak. We work continously on improving this selection. If you have an idea - please feel free to contact us.
Included in delivery: 2 Pieces
This product is suitable for the following flippers:
*** Protector - blank sheet *** | 2022
24 | 2009
301/Bulls Eye | 1986
Abra Ca Dabra | 1975
AC/DC (all Premium and LE versions) - Mini Playfield | 2018
AC/DC (Luci Premium Vault Edition) | 2018
AC/DC (Luci Premium) | 2013
AC/DC (Premium Vault Edition) | 2017
AC/DC (Premium) | 2012
AC/DC (Pro Vault Edition) | 2017
AC/DC (Pro) | 2012
AC/DC Back In Black Limited Edition | 2012
AC/DC Let There Be Rock Limited Edition | 2012
Adventures of Rocky and Bullwinkle and Friends | 1993
Aerosmith (Limited Edition) | 2017
Aerosmith (Premium) | 2017
Aerosmith (Pro) | 2017
Air Aces | 1975
Airborne | 1996
Aladdin's Castle | 1976
Algar | 1980
Ali | 1980
Alice Coopers Nightmare Castle | 2019
Alien (Limited Edition) | 2017
Alien (Standard Edition) | 2017
Alien LV by Pinball Brothers (Limited Version) | 2021
Alien Poker | 1980
Alien Star | 1984
Alien SV | 2021
Alien SV by Pinball Brothers (Standard Version) | 2021
Als Garage Band Goes On a World Tour | 1992
Amazon Hunt | 1983
Amazon Hunt II | 1987
Amazon Hunt III | 1991
Apollo 13 | 1995
Arena | 1987
Asteroid Annie and the Aliens | 1980
Astro-Flite | 1974
Atlantis | 1989
Atlantis | 1975
Attack from Mars | 1995
Attack from Mars (Remake) | 2017
Austin Powers™ | 2001
Avatar (Limited Edition) | 2010
Avatar (Pro) | 2010
Avengers: Infinity Quest (Limited Edition) | 2020
Avengers: Infinity Quest (Premium) | 2020
Avengers: Infinity Quest (Pro) | 2020
Baby Pac-Man | 1982
Back to the Future | 1990
Bad Cats | 1989
Bad Girls | 1988
Banzai Run | 1988
Barb Wire | 1996
Barracora | 1981
Batman | 2008
Batman | 1991
Batman 66 (Catwoman Edition) | 2019
Batman 66 (Limited Edition) | 2016
Batman 66 (Premium) | 2016
Batman 66 (Super Limited Edition) | 2016
Batman Forever | 1995
Baywatch | 1995
Beat the Clock | 1985
Beat the Clock | 1985
Big Bang Bar | 2007
Big Bang Bar | 1996
Big Buck Hunter Pro | 2010
Big Game | 1980
Big Guns | 1987
Big House | 1989
Black Belt | 1986
Black Hole | 1981
Black Jack | 1977
Black Jack (EM) | 1976
Black Knight | 1980
Black Knight 2000 | 1989
Black Knight Limited Edition | 1981
Black Knight Sword of Rage (Limited Edition) | 2019
Black Knight Sword of Rage (Pro) | 2019
Black Knight Sword of Rage (Premium) | 2019
Black Pyramid | 1984
Black Rose | 1992
Black Spider-Man™ | 2007
Blackbelt | 1986
Blackout | 1980
Blackwater 100 | 1988
BMX | 1982
Bon Voyage | 1974
Bone Busters Inc. | 1989
Boomerang | 1974
Bounty Hunter | 1985
Bow & Arrow | 1974
Bow and Arrow | 1974
Bowling Queen | 1964
Bram Stoker's Dracula | 1993
Breakshot | 1996
Bronco | 1977
Brooks & Dunn | 1996
Buck Rogers | 1980
Buckaroo | 1965
Bugs Bunny's Birthday Ball | 1991
Cactus Canyon | 1998
Cactus Canyon (Remake) | 2021
Cactus Jack's | 1991
Canada Dry | 1976
Capt. Fantastic and The Brown Dirt Cowboy | 1976
Car Hop | 1991
Catacomb | 1981
Caveman | 1982
Centaur | 1981
Centaur II | 1983
Charlie's Angels | 1978
Checkpoint | 1991
Cheetah | 1980
Chicago Cubs "Triple Play" | 1985
Circus | 1980
Cirqus Voltaire | 1997
City Slicker | 1987
Class of 1812 | 1991
Cleopatra | 1977
Close Encounters of the Third Kind | 1978
Clown | 1985
Comet | 1985
Congo | 1995
Contact | 1978
Corvette | 1994
Cosmic Flash | 1985
Cosmic Gunfight | 1982
Cosmic Princess | 1979
Count Down | 1979
Count-Down | 1979
Counterforce | 1980
Creature from the Black Lagoon | 1992
Critical Mass | 1982
CSI | 2008
Cue | 1982
Cue Ball Wizard | 1992
Cybernaut | 1985
Cybernaut | 1986
Cyclone | 1988
Dale Jr. | 2007
Dark Rider | 1984
Deadly Weapon | 1990
Deadpool (Limited Edition) | 2018
Deadpool (Premium) | 2018
Deadpool (Pro) | 2018
Defender | 1982
Demolition Man | 1994
Devil Riders | 1984
Devil's Dare | 1982
Dialed In (Collectors Edition) | 2017
Dialed In (Limited Edition) | 2017
Dialed In (Standard Edition) | 2017
Diamond Lady | 1988
Diner | 1990
Dirty Harry | 1995
Disco Fever | 1978
Doctor Who | 1992
Dolly Parton | 1979
Dr. Dude | 1990
Dracula | 1979
Dragon | 1978
Dragonfist | 1982
Dungeons & Dragons | 1987
Earth Wind Fire | 1981
Earthshaker | 1989
Eclipse | 1982
Eight Ball | 1977
Eight Ball Champ | 1985
Eight Ball Deluxe | 1984
Eight Ball Deluxe | 1981
Eight Ball Deluxe Limited Edition | 1982
El Dorado | 1975
El Dorado City of Gold | 1984
Elektra | 1981
Elvira and the Party Monsters | 1989
Elvira's House of Horrors (Limited Edition) | 2019
Elvira's House of Horrors (Premium) | 2019
Elvira's House of Horrors (Signature Edition) | 2019
Elvis | 2004
Embryon | 1981
Escape from the Lost World | 1988
Evel Knievel | 1977
Evel Knievel (EM) | 1977
Excalibur | 1988
F-14 Tomcat | 1987
Family Guy | 2007
Fantasy | 1982
Far Out | 1974
Farfalla | 1983
Fathom | 1981
Fire Mountain | 1980
Fire! | 1987
Fire! Champagne Edition | 1987
Fireball Classic | 1985
Fireball II | 1981
Firepower | 1980
Firepower II | 1983
Fish Tales | 1992
Flash | 1979
Flash Gordon | 1981
Flash Gordon | 1981
Flicker | 1975
Flight 2000 | 1980
Flipper Football | 1996
Fly High | 1985
Flying Chariots | 1963
Foo Fighters (Limited Edition) | 2023
Foo Fighters (Premium) | 2023
Foo Fighters (Pro) | 2023
Force II | 1981
Frank Thomas' Big Hurt™ | 1995
Freddy: a Nightmare on Elm Street | 1994
Freedom | 1976
Freedom (EM) | 1975
Freedom (EM) - Prototype Version | 1975
Freefall | 1981
Frontier | 1981
Frontier | 1980
Full Throttle (Limited Edition) | 2016
Full Throttle (Standard Edition) | 2016
Funhouse | 1990
Future Spa | 1979
Future World | 1978
Galactic Tank Force | 2023
Galaxy | 1980
Game of Thrones (Limited Edition) | 2015
Game of Thrones (Premium) | 2015
Game of Thrones (Pro) | 2015
Genesis | 1982
Genesis | 1986
Genie | 1979
Genie | 1979
Ghostbusters (Limited Edition) | 2016
Ghostbusters (Premium) | 2016
Ghostbusters (Pro) | 2016
Gigi | 1963
Gilligan's Island | 1991
Gladiators | 1993
Godzilla | 1998
Godzilla (Limited Edition) | 2021
Godzilla (Premium) | 2021
Godzilla (Pro) | 2021
Goin' Nuts | 1983
Gold Ball | 1983
Gold Wings | 1986
Goldeneye | 1996
Gorgar | 1979
Grand Lizard | 1986
Grand Prix | 1976
Grand Prix | 2005
Grand Slam | 1983
Guardians of the Galaxy (Limited Edition) | 2017
Guardians of the Galaxy (Premium) | 2017
Guardians of the Galaxy (Pro) | 2017
Guns N' Roses | 1994
Guns N' Roses (Collectors Edition) | 2020
Guns N' Roses (Limited Edition) | 2020
Guns N' Roses (Standard Edition) | 2020
Halloween | 2021
Hardbody | 1987
Harlem Globetrotters On Tour | 1979
Harley-Davidson | 1991
Harley-Davidson® | 1999
Harley-Davidson® (2nd Edition) | 2002
Haunted House | 1982
Heavy Metal | 2020
Heavy Metal Meltdown | 1987
Hell's Queen | 1980
High Roller Casino | 2001
High Speed | 1986
Hollywood Heat | 1986
Hook | 1992
Hoops | 1991
Hot Hand | 1979
Hot Shots | 1989
Hot Tip | 1977
Hot Wheels | 1979
HOT WHEELS™ | 2020
Hotdoggin' | 1980
Houdini | 2017
House of Diamonds | 1978
Hurricane | 1991
Hypnox | 1982
Ice Fever | 1985
Independence Day | 1996
Indiana Jones | 2008
Indiana Jones: The Pinball Adventure | 1993
Indianapolis 500 | 1995
Iron Maiden | 1981
Iron Maiden (Limited Edition) | 2018
Iron Maiden (Premium) | 2018
Iron Maiden (Pro) | 2018
Iron Man | 2010
Iron Man (Pro Vault Edition) | 2014
Jack In The Box | 1973
Jack·Bot | 1995
Jacks to Open | 1984
James Bond 007 | 1980
James Bond 007 (60th Anniversary Limited Edition) | 2022
James Bond 007 (Limited Edition) | 2022
James Bond 007 (Premium) | 2022
James Bond 007 (Pro) | 2022
Jet Spin | 1977
Johnny Mnemonic | 1995
Joker Poker | 1978
Joker Poker | 1978
Joker Poker EM | 1978
Jokerz! | 1988
Jubilee | 1973
Judge Dredd | 1993
Jumping Jack | 1973
Jungle Lord | 1981
Jungle Queen | 1985
Junk Yard | 1996
Jurassic Park | 1993
Jurassic Park (Limited Edition) | 2019
Jurassic Park (Premium) | 2019
Jurassic Park (Pro) | 2019
Jurassic Park Pin | 2021
Karate Fight | 1986
King Pin | 1973
Kingpin | 1996
Kings & Queens | 1965
Kings of Steel | 1984
Kiss | 1979
KISS (Limited Edition) | 2015
KISS (Premium) | 2015
KISS (Pro) | 2015
Krull | 1983
Lady Luck | 1986
Lady Luck | 1986
Laser Ball | 1979
Laser Cue | 1984
Laser War | 1987
Last Action Hero | 1993
Lazer Lord | 1984
Lectronamo | 1978
Led Zeppelin (Limited Edition) | 2020
Led Zeppelin (Premium) | 2020
Led Zeppelin (Pro) | 2020
Legends of Valhalla | 2021
Lethal Weapon 3 | 1992
L'Hexagone | 1986
Liberty Belle | 1962
Lightning | 1981
Lights...Camera...Action! | 1989
Locomotion | 1981
Lost In Space | 1998
Lost World | 1978
Lucky Seven | 1978
Magic | 1979
Magic Castle | 1984
Magic Picture Pin | 1982
Mario Andretti | 1995
Mars God of War | 1981
Mary Shelley's Frankenstein | 1995
Masquerade | 1966
Mata Hari | 1978
Mata Hari (EM) | 1977
Maverick | 1994
Medieval Madness | 1997
Medieval Madness (Remake) | 2016
Medusa | 1981
Memory Lane | 1978
Metallica (Premium) | 2013
Metallica (Pro LED) | 2014
Metallica (Pro) | 2013
Metallica Master of Puppets (Limited Edition) | 2012
Meteor | 1979
Mexico 86 | 1986
Mibs | 1969
Millionaire | 1987
Mini-Viper | 1996
Miss World | 1985
Monday Night Football | 1989
Monopoly™ | 2001
Monster Bash | 1998
Monster Bash (Remake) | 2018
Monte Carlo | 1987
Motordome | 1986
Motordome | 1986
Mousin' Around! | 1989
Mr. & Mrs. Pac-Man Pinball | 1982
Mustang | 1977
Mustang (Limited Edition) | 2014
Mustang (Premium) | 2014
Mustang (Pro) | 2014
Mystery Castle | 1993
Mystic | 1980
Mystic Star | 1986
NASCAR | 2005
NBA | 2009
NBA Fastbreak | 1997
New Star's Phoenix | 1987
New Wave | 1985
NFL | 2001
Night Rider | 1977
Night Rider (EM) | 1976
Nine Ball | 1980
Nitro Ground Shaker | 1980
No Fear: Dangerous Sports | 1995
No Good Gofers | 1997
Nugent | 1978
Oktoberfest | 2018
Old Chicago | 1976
Operation: Thunder | 1992
Orbitor 1 | 1982
Panthera | 1980
Paragon | 1979
Paragon (EU Version - 3 Flipper Design) | 1979
Paragon (US Version - 4 Flipper Design) | 1979
Party Animal | 1987
Phantom of the Opera | 1990
Pharaoh | 1981
Phoenix | 1978
Pin Ball Pool | 1983
PIN·BOT | 1987
PIN·BOT | 1986
Pinball | 1977
Pinball | 1983
Pinball Champ | 1983
Pinball Champ '82 | 1982
Pinball Magic | 1995
Pinball Pool | 1979
Pink Panther | 1981
Pirates of the Caribbean | 2006
Pirates of the Caribbean (Collectors Edition) | 2018
Pirates of the Caribbean (Limited Edition) | 2018
Pirates of the Caribbean (Standard Edition) | 2018
Pistol Poker | 1993
Playboy | 1978
Playboy | 1999
Playboy 35th Anniversary | 1989
Playboy® | 2002
Pokerino | 1978
Police Force | 1989
Pool Champion | 1985
Pool Sharks | 1990
Popeye Saves the Earth | 1994
Power Play | 1978
Pro-Football | 1973
Protector - blank | 2022
Pulp Fiction | 2023
Punchy the Clown | 1993
Punk! | 1982
Q*Bert's Quest | 1983
Queen (Rhapsody Edition) | 2022
Quicksilver | 1980
Rack A Ball | 1962
Rack em Up | 1983
Rack 'Em Up! | 1983
Radical! | 1990
Raven | 1986
Ready...Aim...Fire! | 1983
Red & Ted's Road Show | 1994
Rescue 911 | 1994
Revenge From Mars | 1999
Rick And Morty | 2020
Ripleys Believe It or Not | 2004
Riverboat Gambler | 1990
Road Kings | 1986
Rob Zombies Spookshow International | 2016
Robocop | 1989
Robot | 1985
Robo-War | 1988
Rock | 1985
Rock Encore | 1986
Rocky | 1982
Roller Disco | 1980
RollerCoaster Tycoon | 2002
Rollergames | 1990
Rolling Stones | 1980
Rolling Stones (Limited Edition) | 2011
Rolling Stones (Pro) | 2011
Royal Flush Deluxe | 1983
Rush (Limited Edition) | 2022
Rush (Premium) | 2022
Rush (Pro) | 2022
Safe Cracker | 1996
Sahara Love | 1984
Saturn 2 | 1985
Scared Stiff | 1996
Scorpion | 1980
Scramble | 1987
Seawitch | 1980
Secret Service | 1988
Sexy Girl | 1980
Shaq Attaq | 1995
Shaq Attaq | 1995
Sharkey's Shootout | 2000
Sharpshooter | 1979
Ship-Mates | 1964
Shooting the Rapids | 1979
Show Boat | 1961
Shrek™ | 2008
Silver Slugger | 1990
Silverball Mania | 1980
Sinbad | 1978
Sinbad | 1978
Sindbad | 1978
Skateball | 1980
Sky Dive | 1974
Sky Jump | 1974
Slick Chick | 1963
Soccer Kings | 1982
Solar City | 1977
Solar Fire | 1981
Solar Ride | 1979
Sorcerer | 1985
South Park | 1999
Space Hawks | 1986
Space Invaders | 1980
Space Jam | 1996
Space Mission | 1976
Space Odyssey | 1976
Space Rider | 1980
Space Shuttle | 1984
Space Shuttle | 1980
Space Station | 1987
Speakeasy | 1982
Speakeasy 4 | 1982
Special Force | 1986
Special Force Girls | 1986
Spectrum | 1982
Spider-Man | 2007
Spider-Man (Vault Edition) | 2016
Spirit | 1982
Spirit of 76 | 1975
Split Second | 1981
Spooky | 1987
Spring Break | 1987
Spy Hunter | 1984
Star Gazer | 1980
Star God | 1980
Star Light | 1984
Star Race | 1980
Star Trek | 1979
Star Trek | 1991
Star Trek (Enterprise Limited Edition) | 2013
Star Trek (Premium) | 2013
Star Trek (Starfleet Pro) | 2013
Star Trek: The Next Generation | 1993
Star Wars | 1992
Star Wars (Limited Edition) | 2017
Star Wars (Premium) | 2017
Star Wars (Pro) | 2017
Star Wars Comic Art (Premium Edition) | 2017
Star Wars Comic Art (Pro) | 2017
Star Wars Episode I | 1999
Star Wars Pin | 2019
Star Wars Trilogy | 1997
Stargate | 1995
Stars | 1978
Star's Phoenix | 1987
Starship Troopers | 1997
Stellar Airship | 1979
Stellar Wars | 1979
Stingray | 1977
Strange Science | 1986
Stranger Things (Limited Edition) | 2019
Stranger Things (Premium) | 2019
Stranger Things (Pro) | 2019
Strato-Flite | 1974
Street Fighter II | 1993
Street Fighter II | 1993
Striker | 1982
Striker Xtreme | 2000
Strikes and Spares | 1978
Sudden Withdrawal | 1990
Super Bowl | 1984
Super Mario Bros. | 1992
Super Mario Bros. Mushroom World | 1992
Super Orbit | 1983
Super-Flite | 1974
Supersonic | 1979
Surf Champ | 1976
Surf 'n Safari | 1991
Swords of Fury | 1988
Tag-Team Pinball | 1985
Tales from the Crypt | 1993
Tales of the Arabian Nights | 1996
Target Alpha | 1976
Taxi | 1988
Tee'd Off | 1993
Teenage Mutant Ninja Turtles | 1991
Teenage Mutant Ninja Turtles (Limited Edition) | 2020
Teenage Mutant Ninja Turtles (Premium) | 2020
Teenage Mutant Ninja Turtles (Pro) | 2020
Ten-Up | 1973
Terminator 2: Judgment Day | 1991
Terminator 3: Rise of the Machines | 2003
The Addams Family | 1992
The Addams Family Special Collectors Edition | 1994
The Amazing Spider-Man | 1980
The Amazing Spider-Man | 1980
The Avengers (Limited Edition) | 2012
The Avengers (Premium) | 2013
The Avengers (Pro) | 2012
The Bally Game Show | 1990
The Beatles (Diamond Edition) | 2018
The Beatles (Gold Edition) | 2018
The Beatles (Platinum Edition) | 2018
The Big Lebowski | 2016
The Brain | 2006
The Champion Pub | 1998
The Flintstones | 1994
The Games | 1984
The Getaway: High Speed II | 1992
The Godfather 50th Anniversary (Collectors Edition) | 2023
The Godfather 50th Anniversary  (Limited Edition) | 2023
The Hobbit | 2016
The Incredible Hulk | 1979
The Incredible Hulk | 1979
The Lord of the Rings | 2003
The Lord of the Rings (Limited Edition) | 2009
The Lost World Jurassic Park | 1997
The Machine: Bride of Pin·bot | 1991
The Mandalorian (Limited Edition) | 2021
The Mandalorian (Premium) | 2021
The Mandalorian (Pro) | 2021
The Munsters (Limited Edition) | 2019
The Munsters (Premium) | 2019
The Munsters (Pro) | 2019
The Party Zone | 1991
The Pinball Circus | 1994
The Shadow | 1994
The Simpsons | 1990
The Simpsons Pinball Party | 2003
The Six Million Dollar Man | 1978
The Sopranos | 2005
The Walking Dead (Limited Edition) | 2014
The Walking Dead (Premium) | 2014
The Walking Dead (Pro) | 2014
The Who's Tommy Pinball Wizard | 1994
The Wizard of Oz | 2013
The X Files | 1997
Theatre of Magic | 1995
Tiger Rag | 1984
Time Fantasy | 1983
Time Line | 1980
Time Machine | 1983
Time Machine | 1988
Time Warp | 1979
Title Fight | 1990
Torch | 1980
Torpedo Alley | 1988
Total Nuclear Annihilation | 2017
Totem | 1979
Touchdown | 1984
Tour De France | 1984
Toy Story 4 (Collectors Edition) | 2022
Toy Story 4 (Limited Edition) | 2022
Transformers™ (Limited Edition) | 2011
Transformers™ (Pro) | 2011
Transporter the Rescue | 1989
Tri Zone | 1979
Trident | 1979
TRON: Legacy | 2011
TRON: Legacy (Limited Edition) | 2011
Truck Stop | 1988
Twilight Zone | 1993
Twilight Zone - Early… posts between the bumpers | 1993
Twister | 1996
TX-Sector | 1988
Ultraman | 2021
Varkon | 1982
Vector | 1982
Vegas | 1990
Venom (Limited Edition) | 2023
Venom (Premium) | 2023
Venom (Pro) | 2023
Victory | 1987
Viking | 1980
Viper | 1981
Viper Night Drivin' | 1998
Volcano | 1981
Volcano | 1981
Voltan Escapes Cosmic Doom | 1979
Warlok | 1982
Waterworld | 1995
Wheel Of Fortune | 2007
Whirlwind | 1990
White Water | 1993
WHO dunnit | 1995
Whoa Nellie! Big Juicy Melons™ | 2015
Wild Fyre | 1978
Willy Wonka and the Chocolate Factory (All Editions) | 2019
Willy Wonka and the Chocolate Factory (Collectors Edition) | 2019
Willy Wonka and the Chocolate Factory (Limited Edition) | 2019
Willy Wonka and the Chocolate Factory (Standard Edition) | 2019
Winter Sports | 1978
Wipe Out | 1993
Wizard Blocks™ | 1999
Wizard! | 1974
World Challenge Soccer | 1994
World Cup | 1978
World Cup Soccer | 1994
World Poker Tour™ | 2006
Wrestlemania (Limited Edition) | 2015
Wrestlemania (Pro) | 2015
WWF Royal Rumble | 1994
Xenon | 1980
X-Men (Pro) | 2012
X-Men Magneto LE | 2012
X-Men Wolverine LE | 2012
X's & O's | 1984
Zankor | 1986